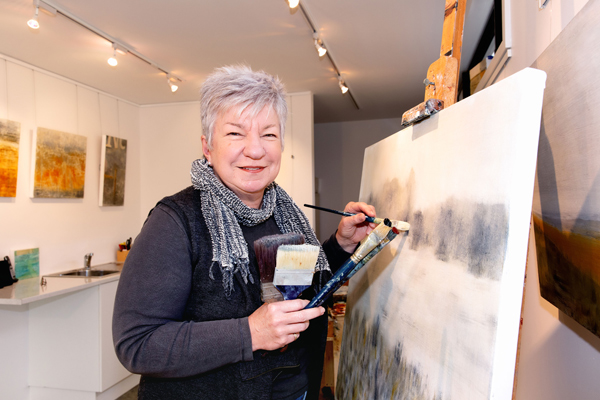 STUDIO PRACTICE
A recurring theme in my paintings is my response to the Australian landscape, from the lines left by the tide on the sand to the vastness of the horizon.
As a migrant I have been overwhelmed by the view of the horizon and the space in Australia (having lived in suburban London, I only ever saw the horizon on our annual seaside holidays!) As a result the horizon has become a strong element in my painting. My paintings are abstracted landscapes and I only paint in oils; using a limited palette of colours that relate to the landscape. Some works are heavily textured, echoing the texture in the landscape; others are built up layers of colour, where the fusion at the meeting point of the blocks of colour is the focal point.
There is a deliberate silence to my paintings, by presenting the viewer with space, the work attempts to engage the viewer. It is in our nature to fill that void, bringing our own interpretation to the viewing, remembering a similar journey or view.
I returned to formal art education as a mature student in 1999 and completed a Diploma in Fine Art at Hornsby TAFE. Following encouragement from one of the teachers there I went on to the University of Sydney, completing my BVA with Honours in 2004. There was a particular area of research that I was interested in pursuing regarding the use of digital images in contemporary art, so I completed my Masters of Visual Art at Sydney College of the Arts.
RESEARCH DISSERTATION:
'The Original in the Age of Digital Reproduction'
ABSTRACT:
This dissertation addresses the issue of reproduction in my studio practice. Whether I am creating a copy or a new original and whether the digital reproductions of my paintings are art works. Historically, much has been written about how the role of art in society has been considerably altered through mechanical reproduction. Establishing an historical context, this dissertation continues the discussion to include the impact of digital reproduction and the internet on the role of art in a contemporary context. Comparisons between a virtual experience and a real experience and their respective merits are also discussed. The dissertation evaluates other contemporary artists and their use of digital technology. The significance of this body of work is that it confirms the use of digital technology as an additional tool in the art making process and the status of a digital print as an art work.
NICOLA PERKIN
Born London
STUDIES
1991 Advanced Certificate Art and Design, London
1996 Black and White Photography,
Hawthorn Secondary College
1998 Certificate in Art Photography,
North Sydney Institute of TAFE, Hornsby
1999-2000 Diploma in Fine Arts,
North Sydney Institute of TAFE, Hornsby
2001-2004 BA Visual Arts (Hons)
Sydney College of the Arts, University of Sydney
2005 – 2007 Master Visual Arts, University of Sydney
PRIZES
1996 Award for Outstanding Achievement
Schreiber Photographics
1998 Award for Highest Pass, Certificate in Art Photography
1999 Merit Award, Highest Pass – Year 1, Diploma in Fine Arts
2000 Merit Award, Highest Pass – Year 2, Diploma in Fine Arts
2000 Highly Commended, Ron Hogan Student Painting Prize, North Sydney Institute of TAFE
SOLO EXHIBITION
2014 Featured Artist, Qdos Gallery, Lorne
2011 New works by Nicola Perkin, Workspace Gallery, Collingwood
2010 Painting the Silence, Workspace Gallery, Collingwood
2008 On the edge; recent works by Nicola Perkin,
Landship Gallery, Headland Park
GROUP EXHIBITIONS
2015 Anglesea Art and Craft Show, Anglesea
Awagami International Miniature Print Exhibition, Japan
Geelong Arts Society Print Exhibition, Geelong
2014 Art House Printmakers, Anglesea Art House, Anglesea
Lorne Annual Easter Art Show
2011 2011 ANL Maritime Art Prize & Exhibition, Mission to Seafarers
MND Nearest and Dearest, Art House Hotel, Sydney
2010 Swan St Artists' Group Show, In Haus Gallery, Melbourne
2009
Change, Toyota Community Exhibition, Melbourne
Middle Head Artists, Headland Park Studios
Artists of Mosman: 2088, Mosman Art Gallery
Middle Head Artists, Open Day, Landship Gallery
2008
Toyota Community Exhibition 2008
Artists of Mosman: 2088, Mosman Art Gallery
Middle Head Artists, Art House Hotel, Sydney
Space4art 08, Landship Gallery, Headland Park
2007
Art in the Open, Headland Park Studios
Photo 5, Canon's online photographic exhibition
Harbour, Landship Gallery, Headland Park
Space4art 07, Landship Gallery, Headland Park
Frances Keevil Gallery
2006
Headland Park Studios
Space4art Studios
Between surface and substance, Mary Place Gallery
Frances Keevil Gallery
Art in the Open, Headland Park Studios
Post-graduate Exhibition, Sydney College of the Arts
2005
Headland Park Studios
Small Artwork Show, Newport Artworks
Space4art Studios Opening Exhibition
Emergent, Newport Artworks
Student Diversity, NSW Parliament House
Waverley College Art Show
Tea Gardens Art Show
2004
Twomey and Perkin, Blue Poles Gallery Cafe
Twomey and Perkin, Newspace Gallery
Waverley College Art Show
Sculpture by the Sea
2003
Twomey and Perkin, Newspace Gallery
SCA Graduation Show, Sydney College of the Arts
Girls' Night Out, Newspace Gallery
Waverley College Art Show
2002
Sculpture by the Sea
Willoughby City Art Prize
Sophomore, Newspace Gallery
Waverley College Art Show
Eagle Nest Gallery, Airey's Inlet, Victoria
2001
30, Newspace Gallery
Eagle Nest Gallery, Airey's Inlet, Victoria
Waverley College Art Show
2000
Ron Hogan Memorial Art Prize, Hornsby TAFE
RBN 12545, Graduate Student Paintings, Hornsby TAFE
Local Colour, Hornsby TAFE ,Eryldene Historic House